Congratulations on choosing to start a career in CNC Machining!
Machinist positions are rapidly growing in demand, so we need more people like you in the U.S. to get trained in and working out in the industry! If you have experience or proper training, there's a very good chance of you getting a job as one!
CNC Machinist
A cnc machinist is paid to make parts to print. Whether it's a small job shop, or one of the biggest production manufacturer's in the country, a machinist will be operating a computer-controlled machine (mill or lathe are the most common) to run parts that meet the tolerances given on the blueprint.
Some companies don't want to deal with all of the job applications and hiring process, so you may have to go through a temp-agency to work there. Most of them are temp-to-hire, so if they see that you are a good worker and are efficient, they will more than likely hire you, allowing you to get their full benefits and wage.
CNC Machinist Job Description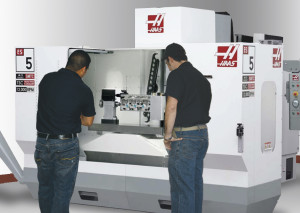 A lot of machine shops make medical, aerospace, and government parts, although there are still smaller shops out there that make parts for aftermarket devices. The job description will vary depending on what kind of shop you work in.
For example, in a production machine shop you may be loading dozens or hundreds of parts onto fixtures, and then deburring the ones that come out. They are usually longer cycle times due to the high number of parts, and each job may span over several months.
In a smaller machine shop you will be doing more set-ups and smaller part runs, so you may be running a different part every day. Depending on how skill you are, you may be setting up the jobs, as well as editing programs if they need correction.
Typically, a machinist's job will involve:
Loading and removing parts
Inspecting parts to make sure they're within tolerance
Problem solving
Editing programs/feeds and speeds
Deburring parts
For more information about the cnc machinist job description, click here.
CNC Machinist Jobs
As I previously stated, machinists are in high demand today. If you have the proper training, meet the requirements that employers set, there's an excellent chance that you will get hired.
Both large production companies and smaller job shops are in need of machinists due to the fact that many of them are old enough to retire now. They need help to keep their machines running, so they're desperate to hire people like you!
CNC Programming Training
After being just a machine operator for a while, some machinists decide that they want to get into programming. There's a lot more to programming parts than just setting them up and loading them into a machine, so it's quite a bit tougher to get the job. A programmer will have extensive knowledge about CNC codes, and should be able to hand-write most any program for a part.
You can learn how to program right at your shop if you have a more experienced machinist to help you. Otherwise you can take some CNC programming classes at a Tech school if they have a machining course.
It takes a while to learn how to write programs and use CAD/CAM software properly, but a programmer has higher wages than the machine operators because of their knowledge/experience.