When you hear the words "Billet Aluminum" or "CNC Billet Machined", what comes to mind? Usually people think of shiny and intricate parts. They can be 'bling' parts for automotive toys, such as snowmobile or ATV parts, or it can be something that is an upgrade from an oem part.
So, what is the difference between billet and… well, not billet? If it's not a billet part, then it's probably cast, which can also be machined afterwards. An example of a billet part would be something completely machined from a square piece of stock; no casting or forging involved. Billet does not only mean it's made out of aluminum, although it is the most commonly known material for it. You can also make a billet steel, copper, stainless, or brass part.
Pros?
There are several advantages to making a billet part, both over cast as well as forged. The biggest advantage of machining is the accuracy and consistency. A CNC Milling center can hold much tighter tolerances than a mold or forging metal into a part. If you need a precise part, such as small gun pieces, CNC billet parts are the way to go.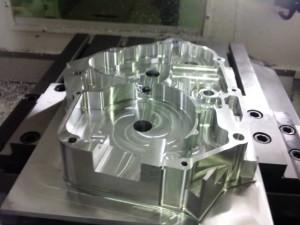 However, it is depends on the company/machinist that is making the parts. If they are done right, all tolerances will be met, it will look "pretty", and it can be just as strong, if not stronger, than a cast or forged piece.
Cons?
While it is easier to hold tighter tolerances, machining a billet part takes more time than casting or even forging a part. Once the mold is made, you can make parts in minutes, if not seconds! Set-up time is very costly, and setting up a CNC milling center or turning center can take hours. However, the more parts you run at a time, the more it will offset the set-up cost. That still doesn't take away the cycle times and cost of tooling.
Compared to forged, it isn't always as strong because the parts are literally 'forged' into place. However, you can take a forged part and machine extra features on it if you have a tight tolerance.
In the end, it comes down to what you need. Each kind of part has their own advantages. Billet pieces look really nice, can be made to hold precise dimensions, and as a result they may function better than a cast or forged piece.