Reading a blueprint accurately is extremely important in the machining industry. If you can't decipher a print or flip your views (more on that later), you'll have a hard time meeting the part requirements.
The first thing to look at is the job description box. It has all of the material, part number, revision, date, and other information about the part. If you're just an operator or a set-up guy, the most important things are the material and part number, as well as the tolerances if given. Always check to see if there are revisions, however, in case the program needs to be modified to meet the new dimensions/tolerances.
If you're on a milling, look at the overall length of the part. If it's square or rectangular, how wide is it, and what is the height? What are the tolerances? If there's no specified, there's generally a set tolerance in the description box that depends on how many decimal places the dimension is. So, if the part is 4.75″ long, and the tolerance for .xx decimal numbers is .01, then the tolerance is 4.750″ + or – .010″.
If there's any milling features involved, you'll need to check the length, depth, width, and possibly angles of them too. Calipers, micrometers, and depth mics are good tools to check dimensions quickly, but if you need to check something that has a very tight tolerance, more expensive tools or machines are required.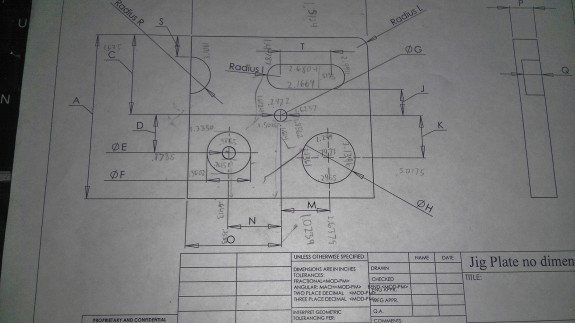 Holes are pretty straight forward. They can be drilled, bored, reamed, and even circulated-interpolated by an end mill. Look at the blueprint to see if the specified hole is a through or blind hole with a called out depth. If it has a given depth, does it need to be a flat bottom, or can it be left with a drill bottom? If a hole has a tolerance of .002″ or less, ground gauge pins should be used. Large holes can be checked with more expensive tools, depending on what your machine shop has.
Counter-bores and counter-sinks are usually machined in relation to holes. A counter-bore will have dimensions for the diameter and depth of the bore. A counter-sink will have diameter dimension, as well as a given angle. Not all counter-sinks called out are 90 degrees, so always pay close attention.
Another common feature to look for is threaded holes. They can be tapped or cut with a thread mill. Nothing too special about threads either, just check the minor diameter with go and no-go gauge pins, as well as the major diameter of the thread with thread gauges. Your shop should have a collection of thread gauges of all common thread sizes and pitches, as well as any specialty thread required by a customer.
Are there any radius features on the part blueprint? A radius can with be milled by and end mill, or cut with a radius tool cutter. If you are running a part that has been made in the past, then you shouldn't have to adjust the tool or radius offset much, if at all. The radius should make a perfect blend with the flats. Check it with a radius gauge or optical comparator.
A chamfer is often used on the edges of a part as a part of deburring and to make the part look much cleaner and more professional. It is a simple call-out on the print, as you only need to check the size and angle of the chamfer. If you have a large amount of tolerance, you can check it with a depth micrometer.
Also, hole or feature dimensions are very critical. They will usually come from the origin or the edge of the part. Dimensions often come from part features as well. Such as if there's a line of several holes, the first hole dimension will come from the part edge. then the second hole dimension will come from the location of the first hole, and so on and so forth.
In reality, reading a blueprint isn't all that difficult, it's basically just a lot of common sense, and memorizing certain manufacturing symbols. Don't be intimidated by a print with lots of numbers and detail, just take your time and read everything carefully. In fact, I would rather have a part blueprint with too much information than too little, although having the print cluttered with extra numbers is not efficient.