CNC mills have progressed so far these days that you can have your own milling machine that can sit on desk or benchtop; hence the name 'desktop cnc mill'. Depending on how much you want to spend, you could have a set-up for the price of a new computer.
If you are willing to dedicate a good amount of time to learn how to program and use software, having a desktop cnc machine can be a great asset, whether you're looking to make your own parts/tools as a hobby, or actually turn it into a small business.
So, lets look at the what makes a benchtop CNC Mill an advantage over a full size machine, as well as how they are at a disadvantage…
Pros
Cost
Compared to the price of a new 100,000 dollar milling machine, you can get a mini CNC mill for a small fraction of that. How much do they actually cost? I can't really give you a good estimate because there's so many options available. You could buy a basic kit that's complete for less than a thousand bucks, or you could be a bigger and better machine that's fully enclosed with more bells and whistles for a few grand.
Technology
For the price of a desktop mill, you get a lot of technology, especially if the package comes with a good CAM/CAD software. In the past, you'd have to buy a big manual mill or lathe and convert to a 240 set-up for electricity in the garage/shop. They are not enclosed, so after machining a part you'll have a big mess to clean up, whereas a desktop CNC can be enclosed so you have little to no cleanup afterwards.
Size
A big advantage of a desktop mill is how small they are, hence the name "desktop" or "benchtop CNC". Instead of requiring a large garage or pole building to set up a milling center, you can put one of these in your house!
Cons
A desktop CNC mill may be able to machine parts just like a full-size milling center, but there are some pretty big disadvantages. This may or may not affect you, though, depending how what kind of machining work you plan on doing.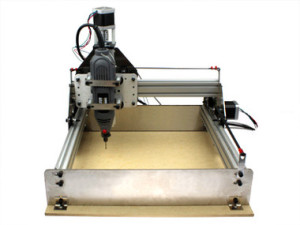 Size
The size of these machines can be a good thing, but it can also be a downside depending on how large the parts are that you are going to make. If you want to make motorcycle rims, a desktop machine just isn't going to cut it. Not only is the machine itself too small, but you may run into rigidity/machine capabilities if you are removing large quantities of material, which brings us to its next downfall…
Capability Woes
Unfortunately you won't be able to hog out stainless or hard still parts on most of these mini mills due to the fact that they are not nearly as rigid as a full size machining center. A lot of them are only built to machine plastics, wood, and soft metals such as aluminum. If the metal is too hard, it will cause a lot of spindle/tool vibration, causing poor finishes. It may also end up breaking your tools because the machine cannot handle the extra tool pressure.