So you've decided that you want to be a full-time Machinist for a career, but you're not sure if you can find a job without going to school… If you haven't already, check out my article on CNC machinist training.
While many career's start right after or during college these days, there are a lot of jobs that don't necessarily require schooling. Years ago you could start out as a shop helper during weeknights while going to high school, but now it seems like you need take at least two years of post-secondary education to get any 'real job'.
To answer the question plainly, no, you don't NEED to go to school to be a full-time cnc machinist. There's plenty of machinists that didn't go to school and are doing well. In fact, there's some guys that never took anything past high and ended up owning their own machine shop.
With that said, it may be hard to find a job in the manufacturing industry with little to no experience. In this case, the old saying, "It pays to know" couldn't be more true. If you have a friend or a friend of a parent works in a local machine shop, ask them if there are any openings at that shop. If they don't, that friend will usually suggest another shop or be on the lookout if they know you well enough.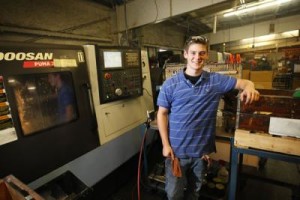 Going to your local Tech school for Machining classes will definitely give you a head start, or an accelerated start if you just graduated from high school and already work in a manufacturing shop. You will be able learn all of your basic machining 101 knowledge, and then work your way up from there until you can program and make your own parts.
There's shops out there that will start from scratch if they find a young and motivated worker, but the learning process will usually be more gradual over a longer period of time. Unfortunately, those can be hard to come by, and the wages probably won't be enough to live off of.
One of the biggest problems is that most companies want someone with several years of machining experience, and don't want to spend their time trying to train someone in, hoping that they will weed out the ill-performing machinists. While they may work some of the time, there's no real way to tell how good of a machinist someone is until you give them work to do. You can take someone with 1-2 years of schooling and a year of on the job experience, and they might do better than another machinist that has been in the industry for 10+ years.
In the end, it's up to YOU to decide what to do. The smartest route would be starting right off the bat when you graduate high school and going to a Tech school for machining, and possibly finding a small shop to work for at the same time. However, not everyone is young enough to do that. For those that are older and need a steady full-time job, there are people that take machining classes during the day, and go do to work at night. It can be gruesome, but if you work hard at it and really think that you want to pursue this great career, I encourage you to put the hammer down and quit slacking off!
Good luck!