Before working as a CNC Machinist, most companies require some previous experience or training. It could be getting certified at a Tech school, a certain number of years working with a number of machines and program controllers, or using specially tooling/machinery.
It really depends on the shop and what they're looking for, but you should decide what kind of shop you're wanting to work at in the first place so you know what to work towards.
Here's some general requirements for each stage of a Machinist Career (Each level is a prerequisite for the next level)…
Basic Shop Helper/Student:
High School Diploma/Currently enrolled
Basic math knowledge
Hard worker
Punctual
Can Pass drug/background check
Ability to lift 30+ lbs.
Listens to authority
Quick learner and motivated
Entry Level Machinist/Operator:
1-2 years of Machine trade school or previous experience
Ability to use basic inspection tools such as: caliper, micrometer, thread gauges
Be able to set tool/work offsets if needed
Can change out parts and properly deburr
Operate a band-saw
Occasional light assembly
Able to interpret blueprints
Mid-level CNC Machinist:
3-5 years of previous machining experience and/or schooling in Machine Trades
Ability to do to set-ups on CNC milling machine or CNC Lathe
Ability to program and edit programs if needed
Some experience with CAD/CAM software preferred (depends on the position)
Ability to inspect own parts with proper tools
Math/Basic trigonometry skills
Basic knowledge of feeds and speeds for materials
Lead Machinist:
Good communication/interaction skills
Proficient in troubleshooting machine and program problems/alarms
5 or more years of previous experience
Ability to teach and train new employees on machine operating, set-ups
Certified and experience with fork-lift operation
Report all maintenance and important issues to Manager
Understand the capabilities and limitations of each machine
Be a leader and organized
CNC Programmer/Engineer:
2-5+ years of previous programming experience with CAD/CAM software (Gibbs,Surf,Bob,Mastercam,Solidworks,etc.)
Complete understanding of machine usage and programming G & M codes
Awareness of cutting tool technology
Complete understanding of work-holding strategies
Ability to make/utilize work fixtures with simple and complex parts
Strong tooling knowledge, as well as optimum feeds and speeds for each job
Ability to program for different machines; mill/lathe/4th axis/live tooling (if required)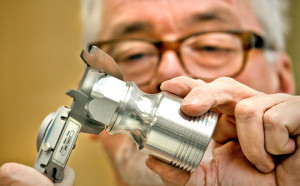 Now not all of these are going to be the exact requirements for the job you're applying for. However, it is important that you experience and can do all or most of the above in the given category for the job you want.
The more you know, the more your future employer will consider you. Having a strong resume doesn't always get you the job, but it can help you get the wage/salary that you deserve based on your skill level.